Pirates ! French presidency makes 400 unauthorized copies of DVD
The French satirical investigative journalism weekly "Le Canard Enchaîné"  reveals that our holier-than-thou presidency is in fact a pirate's lair. In a stunning display of hypocrisy, the presidential audiovisual services produced 400 unauthorized copies of the 52 minutes documentary "A visage découvert : Nicolas Sarkozy".
The editor, Galaxie Press had only shipped 50 copies, but the propaganda plan required more so the Elysee went to work, going as far as modifying the cover and replacing the Galaxie Presse name and logos with "Service audiovisuel de la présidence de la République".
Isn't is deliciously ironic that the same executive power is the main force behind the latest disgusting bungled piece of French legislation regulating and controlling the usage of the Internet in order to enforce the compliance to the copyright law ?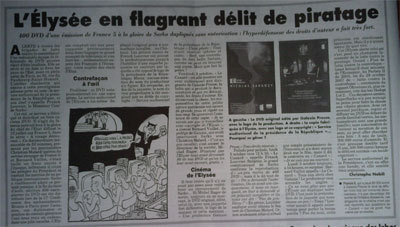 It is even more appalling that we are dealing with repeat offenders : last spring, while the Hadopi law was discussed, U.S. music duo MGMT received €30,000 as a settlement for a copyright infringement by French President Nicolas Sarkozy's party who used one of its songs at a political rally without permission. Those who led the charge against Internet users are not the most respectful of copyright.
Hadopi is also known as the "three strikes" law because it after a certain number of warnings a copyright infringer's Internet access would be cut off. Hadopi has just been adopted. Nicolas – one more of those antics and your Internet access is toast !
35 responses to "Pirates ! French presidency makes 400 unauthorized copies of DVD"